Reconstruct is a cloud based system that helps our customers maintain situational awareness of construction sites throughout the construction process. Reconstruct can host several types construction data including images and videos (drone, handheld, and 360), BIM (more then 60 formats), reality models (point clouds from both photogrammetry and laser scanning), and construction schedules (P6 and MS Project).
Reconstruct performance is mainly impacted by a combination of:
Internet Speed


Internet speed is a key ingredient to successfully run any web-based solution like Reconstruct. Both, the upload and download speeds are significant.


Depending on the size of the models and point clouds in a project, it might require faster internet connection for optimal performance. For example, simple projects can work really well with 30 Mbps dedicated download speed, while ultra complex projects might need 1 Gbps to perform normally. More details in the table below.

Computer Memory

Reconstruct loads project data in memory in order for users to be able to interact with it. For simple projects a computer memory of 8 GB is usually sufficient, while for ultra complex projects a memory of 16 GB or higher might be required.

Availability of dedicated Graphical Processing Unit (GPU)

If you are using external screens in your computer, having a dedicated GPU is highly recommended.
To handle complex and ultra complex projects, your computer must have a dedicated GPU. More details in the table below.

Project Size

The bigger and more detailed your models are, the more your computer and internet will struggle with loading and navigation in Reconstruct, which will require more capable hardware configurations. More details in the table below.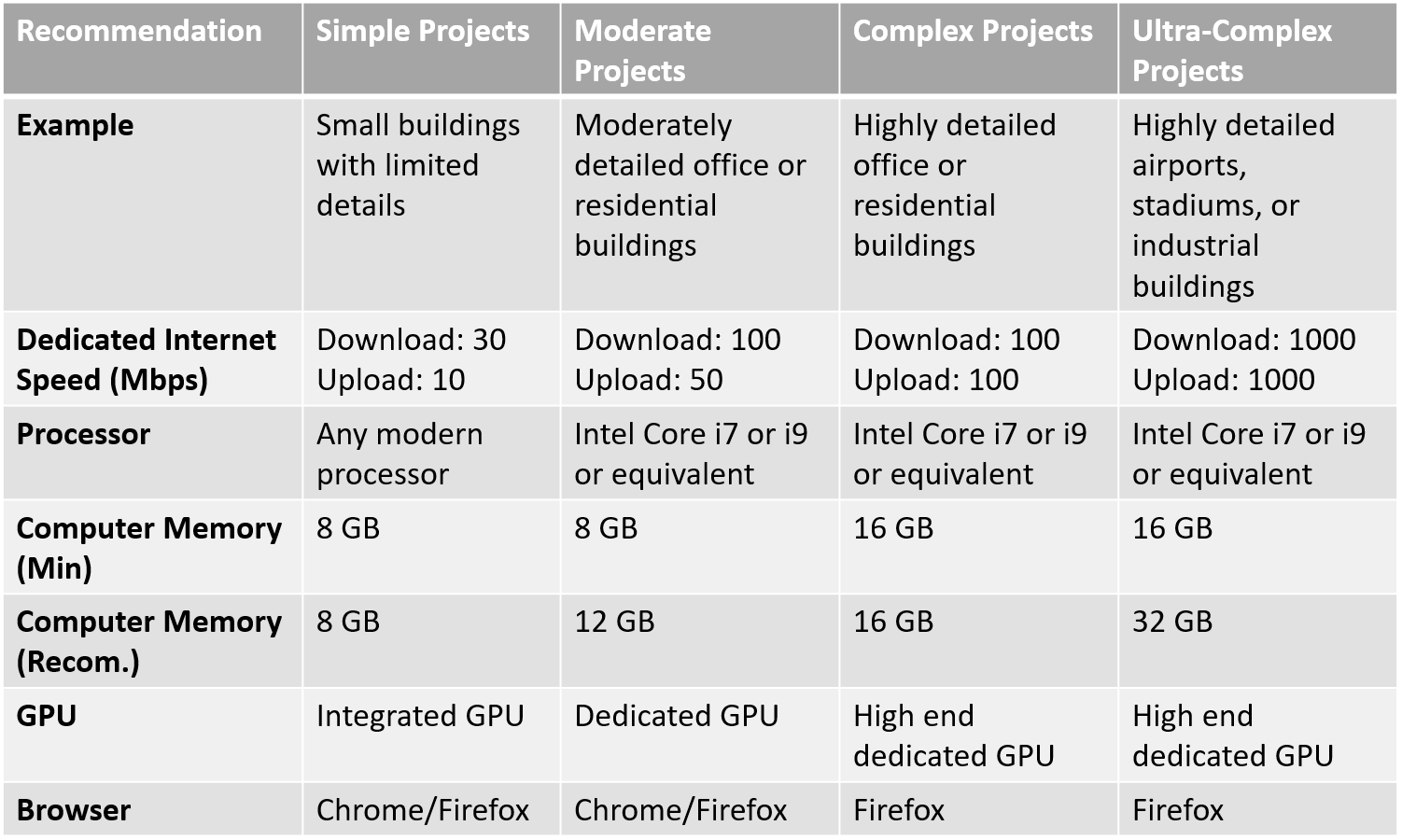 Internet Speed
Reconstruct is a cloud-based software. This means that all the data is stored in the cloud and most of the processing happens in the cloud. This is good news because most of the processing is done on our servers and do not require you to have powerful computers. But we need to get the data to our machines which requires sufficient upload speed, and after processing the data has to go to your machine in order to display it in Reconstruct viewer - this requires good download speed. Internet speed plays a very important role in moving the data between your computer and our cloud servers. Having a fast internet connection is by far the most important requirement for using Reconstruct. As a general rule, the faster your internet connection the better.
Be aware that Reconstruct might not be the only web-based tool that you use on your project. For instance, online project management platforms such as BIM 360 or Procore might be utilized, collaboration tools such as Zoom, Go-to-Meeting and any other browser-based tool require a part of your internet bandwidth. In other words, if you use various web-based tools at the same time, this can decrease the performance of any of those tools significantly.
To test your internet speed, you can use tools such as www.speedtest.net
Memory
Your computer memory (sometimes called RAM) is where the data is stored. The minimum requirements for using Reconstruct is 8 GB of memory. For moderate to complex projects, 16 GB or higher is recommended.
If you are planning on using the machine to run other software packages simultaneously with Reconstruct, then you need to add their minimum requirements to Reconstruct's minimum requirements. For example, if you are planning on using Revit on your computer at the same time while using Reconstruct for a moderately detailed project, then you need the minimum of 32 GB of memory, and the recommended memory would be 64 GB.
For computers that are running the Windows operating system, there is a memory limit for Chrome browser that prevents it from using more than 4 GB of memory for each tab. If you are using a Windows machine, then you should use Firefox browser for moderate to complex projects to experience best performance.
GPU
Reconstruct does not require a dedicated GPU. But if you plan on running other software packages on your machine (e.g. Revit, Navisworks, Sunchro, etc.) or if you plan on attaching large display monitors to your computer (4K screens), then you need a GPU. If you don't have a dedicated GPU, large screens and graphic intensive applications compete for memory and processing power in your computer, which results in a significant drop in performance.
Processor
Reconstruct can deliver good performance with any modern processor. For moderate to complex projects, we recommend Multi-Core Intel i7 or higher processor for best performance.